APPLICATION DEADLINE HAS BEEN EXTENDED AGAIN!!!!
EMAIL BEFORE WEDNESDAY MAY JUNE 19th Emma.blandford@gatech.edu to receive an invitation to Explore Living Learning Community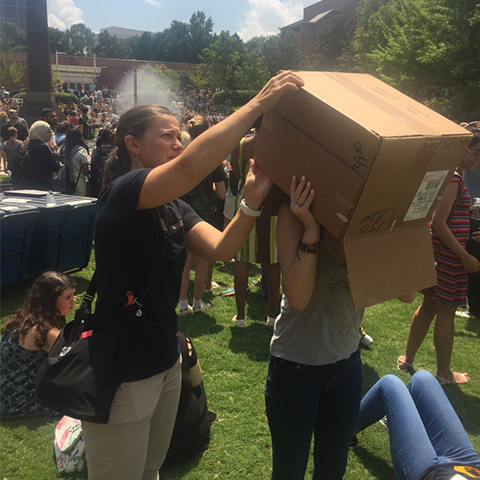 All students admitted to Georgia Tech are eligible for invitation to Explore. Students may apply by completing the Explore application. The application link will be sent via email once you have been accepted to Georgia Tech. Please look for an email with the subject: "Invitation to Apply for Living Learning Communities at Georgia Tech" and please view it in HTML to view the application link.
If you have been accepted to Georgia Tech, but did not receive this email, please use this link to access the application. Please note: Login is required to access the application. Login credentials differ from those used to login into your Georgia Tech account. If this is your first time logging in, you will need to reset your password. To reset your password, click the "Forgot Your Password?" link and follow the prompts. If you are having issues, please contact us via email.
Your Explore application will be read by the Explore staff and admission team. We will consider the type and scope of your high school activities; we will read your essay looking for evidence of your interest in health careers or undergraduate research; and, we will look for evidence of dedication and passion in your activities.
Early action invitations to join Explore will begin on April 6th. Regular decision invitations will begin on April 24th, with additional invitations by June 1st. Students invited in the early action round are asked to accept or decline their invitation by April 20th at 11:59 pm. Students who receive their invitation on April 24th are asked to accept or decline their invitation by May 1st at 11:59pm.
| Explore Application Deadline | Students will Receive Invitations: | Must Accept or Decline By |
| --- | --- | --- |
| Early Action: February 25 | April 6 | April 20 |
| Regular Admission: April 19 | April 26 | May 1 |
| Additional Applications | May 4-June 1 | Rolling |
Explore for Science and Math Program
Who should attend?
Students admitted to Georgia Tech with an interest in majors offered by the College of Sciences, and their guest(s).
If you would like to learn more about Explore, we invite you to visit campus and meet us in person during one of Tech's Gold Carpet Days. College of Science majors are highly encouraged to attend the EXPLORE Science and Math Program for admitted students.
Gold Carpet Days
Who should attend?
Gold Carpet Day is an open house event offering admitted high school seniors the opportunity to get an inside look at what it is like to be a member of the Tech community. During the event, attendees will have the chance to speak with faculty, staff, and current students.