Congratulations and welcome to Georgia Tech!
If you have any questions about the Explore Living Learning Community or the living learning application process, email explorellc.cos@gatech.edu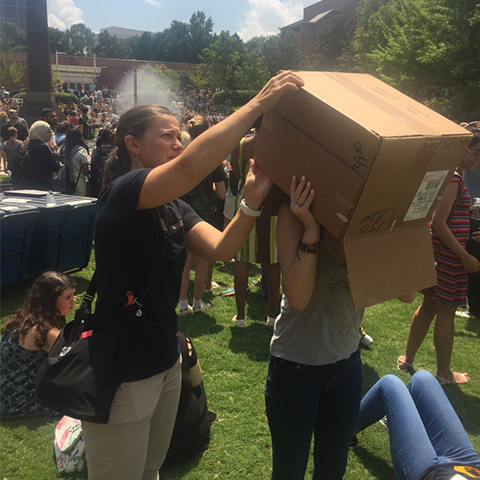 All students admitted to Georgia Tech's College of Sciences program are highly encouraged to join our Explore Living Learning Community!
Students who are admitted to Georgia Tech with a confirmed major in the College of Sciences will receive an automatic invitation to join the Explore Living Learning community! Consider us an additional network of peers and professionals who are here entirely to support you in whatever your goals may be.
If you are not admitted as a College of Sciences major, you WILL NEED TO APPLY. You will receive an email invitation to apply to all living learning communities at GT a few days after you receive your admissions "letter". You will not need to apply to Explore if we are the only LLC you are interested in checking out. However, if you apply to additional LLCs, please rank us amongst your preferences for joining.
More information on applications: https://llc.gatech.edu/app/
Housing
Applying for a Learning Community is a completely separate process from the Housing Application process. All students will need to follow the procedures and meet the deadlines for Georgia Tech Housing found on their website.
WELCOME COLLEGE OF SCIENCES STUDENTS DAY
Explore for Science and Math Program
Who should attend?
Students admitted to Georgia Tech with an interest in majors offered by the College of Sciences, and their guest(s).
If you would like to learn more about Explore, we invite you to join us virtually for one of Tech's Gold Carpet Days.
College of Science majors are highly encouraged to attend the EXPLORE Science and Math Program for admitted students.This week-long series of virtual events connects you with faculty, staff, and current students from across the College to show you how we can work to make COS your next home away from home.
Gold Carpet Days
Who should attend?
Gold Carpet Day is an open house event offering admitted high school seniors the opportunity to get an inside look at what it is like to be a member of the Tech community. During the event, attendees will have the chance to speak with faculty, staff, and current students. If you are attending Explore Day, you will not need to attend Gold Carpet Day as well.