Is
Explore

right for YOU?

Do you:
are you interested in a career in health or opportunities for undergraduate research?

possess a curious mind that likes to investigate?

want to make discoveries that can change how we see the world?

plan to attend a top-ranked graduate or professional school?

intend to apply scientific discoveries to solving real-world problems?
If so, consider
Explore,

where we support our students as they jumpstart their first year at Georgia Tech!

We are not just another academic program. We aren't here to overwhelm you. We are here to support you.

First year students are required to attend our opening retreat, and take one of our GT1000 first year seminar courses. After that, everything that you choose to get involved with is up to YOU!

Visit our staff page to learn more about the students and professionals that make Explore happen

Look for the Living Learning Communities button in the quick links section of your Admission Portal for more information and to start your application.
Direct Benefits
In-House Tutoring Monday - Thursday in Caldwell Classroom
In-House Pre-Health advising with professional and peer advisors
Special sections of highly sought after courses
Receive CITI Responsible Conduct of Research certification (COS 2000)
Faculty engagement in small groups and one one meetings

Access to scholarships and research positions
The fine print
By accepting the Explore invitation, you are making a one year commitment (first 2 semesters) with the option of participating as an upperclassmen Georgia Tech student after your first year. There is a $400 per semester fee for the first year in order to provide you with fantastic resources and excursions that include lab tours, trip to the CDC and Zoo Atlanta, in-house dinners with Tech faculty, and Explore-specific sections of Tech courses.
As a member of Explore you will be required to take one class in your first semester, GT 1000. This seminar is designed to support first-year students in their transition to Georgia Tech and is taught by Georgia Tech academic faculty and administrators with advanced degrees.
Students in Explore live as a cohort in either Caldwell or Folk Residence Hall on West Campus. With a newly built dining facility, close access to our Campus Recreation Center, and close proximity to many science classrooms and labs, this is the ideal location to begin your Tech experience.
Our fall retreat offers you the opportunity to connect with 281 Explore friends, meet some of our incredible faculty,and voice your opinion on the year ahead.
Summary of Requirements:
$400/Semester Fee to provide you with outstanding resources and experiences
GT 1000; first-year seminar
Live in Folk or Caldwell Residence Hall Fall and Spring Semesters
Mandatory Fall Retreat- August 24th (the first Saturday after classes)
While common course offerings differ from year-to-year, here is an example of what has been offered in the past.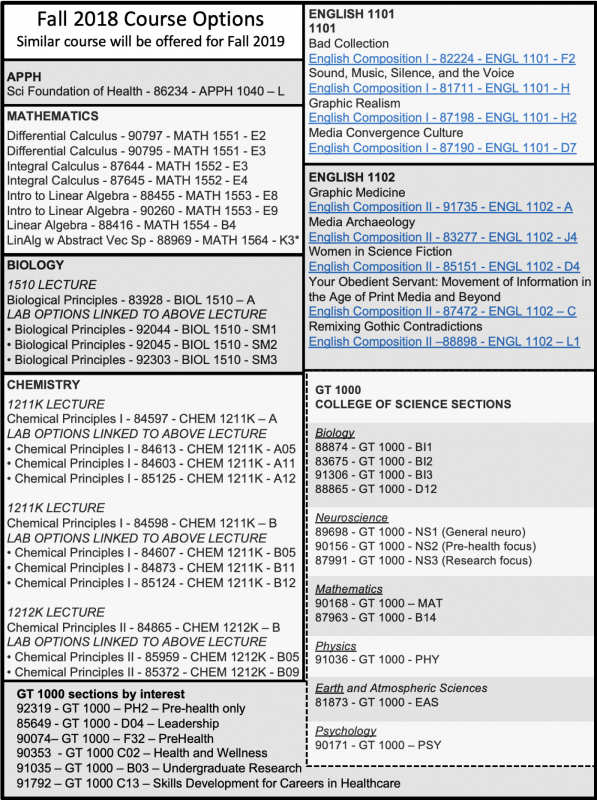 Pre-Health and Research Tracks
After your first semester you may choose to remain exploratory, or you may choose to focus in one of two tracks:
SHaRP - Science, Health and Related Professions
SMaRT - Science and Math Research Training
Weekly Happenings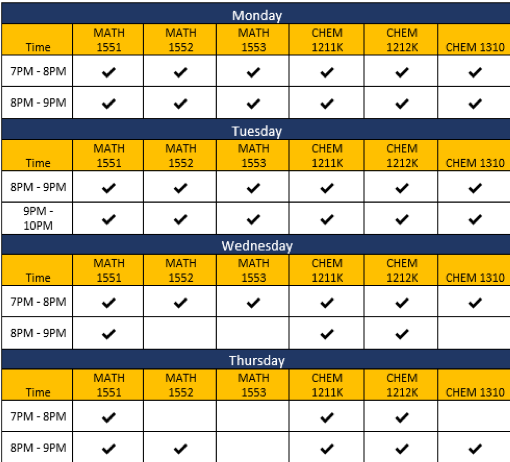 GT 1000; First Year Seminar
Research/health community programming; Tuesdays 6:30-7:30 pm
Student staff office hours; times vary
In-House Pre-Health advising; Mondays 3 - 5 pm (Caldwell) and Wednesdays 5 - 6 pm (Virtual)
In-House Tutoring for CHEM, MATH, & BIO; 7–9 pm Monday–Thursday
"Having multiple people in your dorm conveniently share teachers provides a continuous feed of support, encouragement, grievances, etc. If you're stuck on a lab, chances are someone in the building is working on the same lab and knows how to help!"